SPS™  PLASTIC


 ABS PLASTIC


 DURA-TEX®


 ELASTO-TEX®


 RUSTICATION STRIP


 RUBBER REVEAL STRIPS


 FORM LINER MATERIALS (PROPERTIES)


 FRACTURED PATTERNS


 WOOD PATTERNS


 BRICK PATTERNS


 BLOCK PATTERNS


 STONE PATTERNS


 SMOOTH FLUTE PATTERNS


 OTHER PATTERNS


SPS™ Plastic
SPS™ Plastic Form Liner is manufactured from polystyrene plastic and thermoformed to provide the contractor with an inexpensive alternative for single use applications. It provides a textured concrete surface, in a limited application, at an affordable price. SPS Plastic Form Liner has been particularly useful in tilt-up construction because a major portion of the work calls for a single use material.
RETURN TO TOP


ABS Plastic
ABS Plastic Form Liner is made from premium quality ABS Material that provides superb durability and excellent overall performance. ABS Plastic Form Liner exhibits good impact resistance and contains a ultraviolet shielding compound to reduce the damaging effects of prolonged sunlight. ABS Plastic Form Liners are available in patterns that provide wood, rib, fractured rib, brick and many other textures.
RETURN TO TOP

Dura-Tex®
Dura-Tex® Form Liner is a medium use elastomeric form liner. It possesses all the qualities of premium elastomeric form liner, but is slightly less durable. Symons Dura-Tex® Form Liner is ideal for projects that require about 40 reuses.
RETURN TO TOP
The ruggedness and tear strength of Symons Dura-Tex® Form Liner allows stripping from complex designs without causing damage to the form liner material or the architectural concrete.


Elasto-Tex®
Elasto-Tex® is pure urethane material that provides consistent pattern reproduction, even after many uses.
RETURN TO TOP


The applied cost of Elasto-Tex Form Liner becomes a distinct advantage for those projects that require 100 uses and more.
 

Rustication Strip
Rustication Strips are either wood or plastic to attach to form face to produce a groove or rustication in the concrete. They can be used vertically or horizontally to create various surface effects and patterns. Can be used on wood or metal form and concrete casting beds.
RETURN TO TOP

Rubber Reveal Strips
Flexible Reveal Strips provide a clean and crisp architectural detail to enhance the appearance of concrete structures. They are suitable for both planar and radius forming applications, which is not possible with wood or rigid plastic reveal strips. They release cleanly and easily. They produce crisp lines. Suitable for radius applications. They are reusable. Custom profiles available. 10 ft. standard lengths.
No.
Base
Top
Height

--

1-1/4"

3/4"

3/4"

--

1-3/8"

1"

3/4"

--

2-1/8"

1-1/2"

3/4"

Other sizes available on request.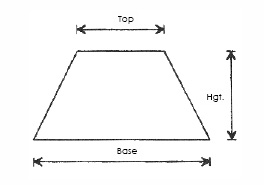 ---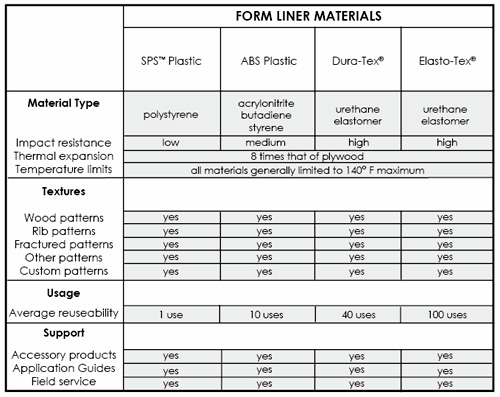 This chart provides general guidelines for selecting the most appropriate form liner. Unusual applications or project conditions may require further recommendations from Masons. Follow all labeling instructions for maximum product performance and worker safety.
Remember to specify these Masons form liners:
SPS™ Plastic - An economical, one use form liner.
ABS Plastic - A thermoformed plastic form liner that provides good texture quality.
Dura-Tex® - Texture quality and reasonable cost in a medium reuse form liner.
Elasto-Tex® - A premium form liner that combines strength and resilience.
---
Fluted Fractured Fin (1¼ OC rib)

¾" Narrow Fractured Fin

1½" Fractured Fin

2" Fractured Rope Rib

Fractured Rope Rib (2" OC rope)

---
Fractured Patterns (continued)
Fine Stone Rib (2" OC rib)

¾" Fractured Fin (1½" OC fin)

No.




Description




Size




Wt/Sht (lbs)



SCT 109SU

0.15 mil
HIPS Plastic
Single-Use


4' x 10'

20.0

 

SCT 109MU

0.15 mil ABS
Multi-Use

4' x 10'

24.8

SCT 109

Elastomeric Rubber Form Liner
Multi-Use

4' x 10'

306.0
1¾" Fractured Fin (3" OC fin)

2" Broken Rock Rib (3-7/16" OC rib)

---
4" Wide Aged Wood (actual 3½ width)

Random Grooved Barnwood

2" Wide Aged Wood

4" Wide Aged Cedar

Rough Sawn Random Length Plank

6" Cedar

---
Wood Patterns (continued)
Barnwood

Sandblast Tongue and Groove

4" Variable Depth Rough Cedar

Extra Rough Sawn

2" Cedar Stake

---
Rustic Brick

Striated Brick

Masonry Slump Block

Ribbed Splitface Block

---
Weathered Ashlar Stone
Round Stone

Small Crushed Stone

Phoenix Limestone

Vertical Flagstone

---
Stone Patterns (continued)
Fractured Granite

Stone Ground Fractured Granite

¼ Deep Rib (5/8" OC Rib)

½" Deep Rib (1-1/4" OC Rib)

¾" Deep Rib (1-1/2" OC Rib)

---
Smooth Flute Patterns (continued)
¾" Deep Rib (2" OC rib)

1" Deep Rib (2â…›" OC rib)

½" Rib (1¼" OC rib)

---
Random Vertical Rustication

⅜" Striated Random

Sandblast - Fine to Medium

Sandblast - Coarse
---
Other Patterns (continued)
Skip Trowel Stucco

Broom Swept

Rolled Rib

---