Masons Supply & DOKA Partnership Bring Innovative Formwork Solutions to the Northwest
Portland, Oregon - October 12, 2011
In the continued tradition of bringing only the highest quality construction products and services to the Pacific Northwest, Masons Supply Company is pleased to announce an exclusive partnership with Doka - The Formwork Experts, a worldwide leader in formwork solutions and services.
With groundbreaking innovations and more than 50 years experience in formwork engineering, Doka is one of the world's leading single-source suppliers of complete formwork solutions. Doka has a comprehensive range of products and services with which it can offer economical formwork solutions in practically all areas of casting concrete construction - meaning anything from multifamily residential buildings and high-rises to complex infrastructure projects such as bridges, water treatment plants, and power stations.
"Doka is constantly researching to find new, innovative, and cost efficient formwork methods," stated Nick Merriman SR, CEO, "Mason's partnership with Doka will allow us to deliver the highest quality forms and formwork solutions to our customers." With the addition of our new state of the art forming and shoring distribution center located in Ridgefield Washington, we have made the investment for contractors to take serious consideration to Masons and Doka for all their concrete forming requirements.        
Masons Supply Company is locally owned and operated with 13 locations throughout the states of Oregon and Washington.  Serving these markets for over 90 years, Masons sole focus is to supply professional contractors in the construction of commercial, industrial, and infrastructure projects in the Northwest.
Masons has over 13,000 SKUs of inventory in 325,000 square feet of warehouse space with strategic locations placed to save their customers time and money.  Masons scope of operations makes it feasible to furnish freight intensive products from domestic and foreign sources at competitive prices.
"Masons Supply was a natural partner for Doka," stated Andrew Mair, CEO. "Together, our focus on professional contractors, experience in the market place, and commitment to bring the most innovative products and solutions on jobsites is what makes us a great partner to the construction industry."
For further information please contact our Ridgefield Forming & Shoring distribution center at (360) 887-4777.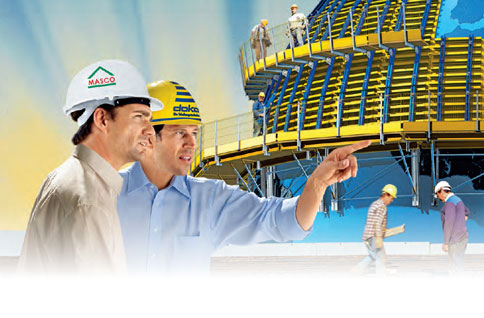 View our forming brochure to learn more about DOKA's comprehensive range of innovative forming systems.